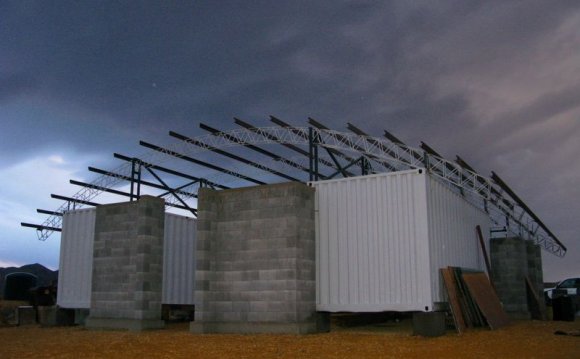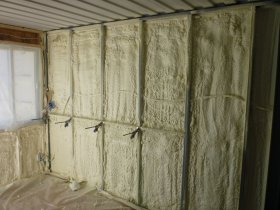 This has been the biggest hassle of the entire project. The contractor I hired to insulate with spray foam started the job on September 25th, and just got around to finishing it on October 22nd – 4 weeks later! There are still some issues with the work he did, but I am done with him now.
It all started on 9/25 when he showed up to do the spraying and the generator he rented was not big enough to do the job. He got about 15′ of wall space done before the generator started having problems. He then told me he would get a different generator that week and have it done by Friday. So, I show up at my cabin the next Weekend and nothing was done. I tried calling him on his cell and he would not return my calls, and did not return my many calls until later the next week when he said it was done.
On October 9th I went to the cabin to start hanging the drywall assuming the insulation was done. At first glance it looked as if everything was OK. I then started looking at it a little closer and thought the foam was a little thin. I got a nail and started probing the foam depth and found the newly sprayed foam was consistently less than an inch thick, and even as low as 3/8 of an inch in many places. BTW, the signed contract for the job specified 2″ of foam on the interior wall. After tracking him down I brought him out there to see what was done. He admitted that it was done incorrectly and told me it was one of his employees who had sprayed it. He said he would personally fix it and make it right that week. Needless to say, it took him another two weeks to finish the job and there were still some things he did not spray correctly.
OK, I'm done complaining about the insulation and will actually start talking about it. I had chosen to use a closed cell spray foam insulation to prevent any condensation from forming behind my walls. Since the steel walls of the container are a perfect vapor barrier, any water vapor that can get behind insulation in the cold months will readily condense on the steel walls. Two inches of sprayed closed cell foam insulation is not only a good insulator (R13), but it is also a seamless vapor barrier and will not allow any water vapor to travel behind it to the steel walls. I had them spray 2″ on the interior walls, 1″ under the containers, and 2″ on the outside top of the containers. While this is not a lot of insulation, keep in mind that this is mostly a three season cabin with a capable wood stove (Jotul 602) and very cheap wood.
I recognize that insulating the outside top of the containers is probably somewhat of a gamble. The conventional, and safe, choice would be to insulate the interior ceiling, although being 6'2″ tall I really did not want to lose any interior height. I also kind of like the look of the corrugated steel roof inside. The potential problem here would be the loss of heat at the edges of the ceiling causing condensation to form inside. If I do get some condensation, I plan on using an anti-condensation coating from Mascoat Industrial. This stuff is very different from the insulating paint scams that abound, and has been used successfully by boating enthusiasts to eliminate condensation in their boat hulls.
Source: www.tincancabin.com
RELATED VIDEO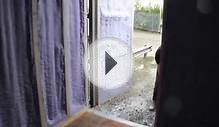 Shipping Container Insulation | Spray Foam Insulation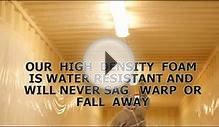 FUSION INSULATION BIOFOAM STEEL SHIPPING CONTAINER FLV 2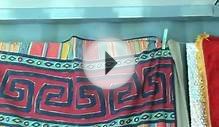 Shipping Container House - Insulating the shipping ...
Share this Post